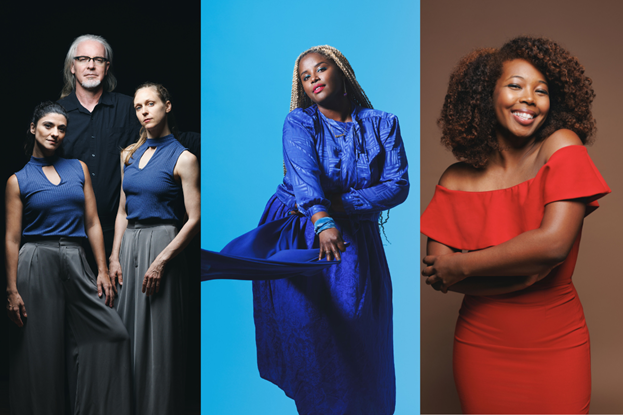 Performing Arts Houston announces 2023 New/Now Commissioning Project winners Group Acorde, Kam Franklin, and ShaWanna Renee Rivon
Photos by Claire McAdams
(Houston) – Performing Arts Houston announces Group Acorde, Kam Franklin, and ShaWanna Renee Rivon as the 2023 Winners of New/Now: The Houston Artist Commissioning Project. These artists have been selected from a group of over 60 applicants to receive the award, a commission to create a new major work, set to premiere January 19-20, 2024, at the Wortham Center. Pick Your Price tickets are available at performingartshouston.org.

"These artists bring so much joy to the stage," says Performing Arts Houston President & CEO Meg Booth. "Their artistic voices bring culture, stories, and shared history to life on stage in the Theater District. We are honored to support the creation of work within and even about our rich and textured communities here in Houston."
Each New/Now winner receives full presentation of a new 25-minute work onstage at the Wortham Center's Cullen Theater, technical support, full marketing support including new publicity photography and professionally filmed performance footage, and a $6,000+ cash award.
Beyond the stage, artists participate in Performing Arts Houston Education and Community Engagement programs for Houston area students and the public. Last year, the New/Now program brought J.E Hernandez to Annunciation Orthodox School for a lecture & demonstration of his work; Vivalda Ndula and Anthony Brandt hosted an open rehearsal for middle school students and spoke with them about artistic creation; and Tazeen Zahida created a Comparative Poetry workshop to be shared with adult audiences last November. Education programs with this year's awardees are currently in design and will be announced on our website later this year.
"It's our mission to connect audiences with exceptional artists through diverse performances and learning experiences," Booth continues. "New/Now encapsulates that mission, featuring Houston artists whose stories and creativity inspire. These performances amplify the value and power of the performing arts.
2023 NEW/NOW WINNERS & WORLD PREMIERE COMMISSIONS (in alphabetical order by artist name)

Group Acorde
Commissioned work: Entrainment
Group Acorde blends the worlds of dance and live jazz. Founded in 2016 by a team of two contemporary movement artists and two experimental musicians, they aim to provide accessible and affordable dance and live music performances and workshops for the Houston community through public performances, classes, and partnerships with local organizations.
Entrainment is a collaboration between the artists of Group Acorde and Texas native Robert Boston, a composer, musician, and educator at the Mark Morris Dance Accompanist Training Program and Music Director at Barnard College Department of Dance in New York. The piece explores a dialogue between individualism and collectivism by using technology to bring the performers and audience together. The company takes on the challenge of bringing audience members to the edge of their seats, creating an engagement that represents how an individual can be supported by the healthy collective.
Kam Franklin
Commissioned work: Bayou City Comeback Chorus: Vol. 2
Frontwoman of the Houston soul band The Suffers, Kam Franklin is a musician with roots in gospel, R&B, and funk. She won The Houston Press' Award for Best Female Vocalist in 2012 and 2014, and Local Vocalist of the Year in 2014 and 2015. She's performed with The Suffers on Late Show with David Letterman, The Daily Show, and Jimmy Kimmel Live! Beyond her musical endeavors, Franklin is known for her passionate activism, using her platform to address social issues and promote positive change.
Bayou City Comeback Chorus: Vol. 2 is a continuation of an original work released in 2022. The live music piece, influenced by psychedelic funk, gospel, chamber choirs, and jazz, focuses on social justice, peace as a practice, environmental preservation, and gun violence. The chorus features Houstonian musicians and vocalists.
ShaWanna Renee Rivon
Commissioned work: Emancipation

ShaWanna Renee Rivon is an award-winning playwright, historian, educator, and activist who's niche and artist's mission is to create period-piece comedies centered around the lives of Black women. With this mission, she has begun the development of a7-play cycle, the first of which is Old Black and White Hollywood, about a 1950's Black woman comic who desires to become the first Black female movie star. Old Black & White Hollywood was developed with Matt Chapman, Suzan-Lori Parks and Theresa Rebeck and won the Edward Albee Playwriting Award. The second installment of her 7-Play Cycle, Power to the Queendom, was developed with the Rec Room Writers. Set in 1970's Houston, the play follows a group of female Black Panthers and is loosely based on a true story. The third installment of the 7-play cycle, You're Cordially Invited to Sit-In is about the 1960 sit-in demonstration that took place in Houston and will premiere at Stages Theatre Spring 2022. Rivon is currently under commission with the Alley Theatre.

Emancipation is a play that examines how Black Ancestors in Houston, particularly on Emancipation Street in Third Ward, fought for freedom. Incorporating dancing and singing, Emancipation is a celebration of the accomplishments that Blacks have made in Houston, while also highlighting that Black Americans are no freer today than they were during Reconstruction Years. Emancipation is a collaboration with musical director and writer Melanie Bivens who created all new music for the play that will be directed by Monique Midgette.
New/Now: The Houston Artist Commissioning Project sustains Houston's working artists by supporting new major works. We believe celebrating artistic voices at home is critical to thriving communities in Houston, the most culturally diverse city in the nation. Since the project's beginning in 2020, New/Now has commissioned works by 14 artists, including Deborah D.E.E.P Mouton's The World's Intermission in 2022. Since participating in New/Now, Mouton has started creating a full-length opera for American Lyric Theater entitled She Who Dared, a shorter opera for Opera Theater St. Louis titled On My Mind, and various writing projects, including Hush Hush Hurricane, a children's book set to release next year.
Another 21/22 New/Now artist, Riyaaz Qawwali, went on to win the Joyce Award in 2023 and has had his New/Now commissioned work The Gospel-Qawwali presented by the Smithsonian. Qawwali will also premiere Jazz-o-Qawwali in April 2024, presented by Houston's Asia Society, focusing on ways that music rooted in spirituality can take on new meaning beyond religious spaces.
Anthony Brandt presented Diabelli 200 as part of New/Now in 2023 has started composing Meeting of the Minds, a new work in collaboration with Dr. Contreras-Vidal and the UH BRAIN Center, NobleMotion Dance, and visual designer Badie Khaleghian. Meeting of the Minds is ballet scored for a string quartet wherein the dancers will wear EEG caps that will project the live data on screen through the performance. The piece is set to be performed as part of the Hobby Center's Discovery Series in January 2024.
Reflecting on his experience of the Project, composer and 2022 New/Now artist J.E. Hernández shared "Performing Arts Houston saw the value, and they've embraced this work in a very special way. I have enormous gratitude for them, and I'm proud to show that Houston is another place where the bleeding edge of music is happening, the bleeding edge of art is happening. This isn't happening in New York. This isn't happening in LA. It's happening here, and I think that means something" (The Houston Chronicle).
Each year, the New/Now program has evolved in dialog with the artists. This upcoming year, Performing Arts Houston is excited to introduce a Pick What You Pay ticket price to all to participate in the arts by helping to eliminate financial barriers.
About Performing Arts Houston
Performing Arts Houston connects audiences with exceptional artists through diverse performances and learning experiences. We ignite and cultivate passion for the performing arts, exploring the vast landscape of artistic expression to discover new understanding about ourselves, create community, inspire dialogue, and enrich our world. More at performingartshouston.org.

Ticket Information
Pick Your Price tickets are available at performingartshouston.org or by calling (713) 227-4772. Performing Arts Houston members save 10%, enjoy free exchanges, and more, through an annual contribution. Details at performingartshouston.org/memberships.
# # #
PERFORMING ARTS HOUSTON
presents
New/Now
The Houston Artist Commissioning Project
January 19-20, 2024
Friday 7:30 pm, Saturday 7:30 pm
Cullen Theater, Wortham Center

Group Acorde
Entrainment
Kam Franklin
Bayou City Comeback Chorus: Vol. 2
ShaWanna Renee Rivon
Emancipation

Follow us on Social:
FACEBOOK: @performingartshouston
INSTAGRAM: @performingartshouston
TWITTER: @artshoustontx
Media Contact:
Caroline Senter
csenter@performingartshouston.org
713-632-8105