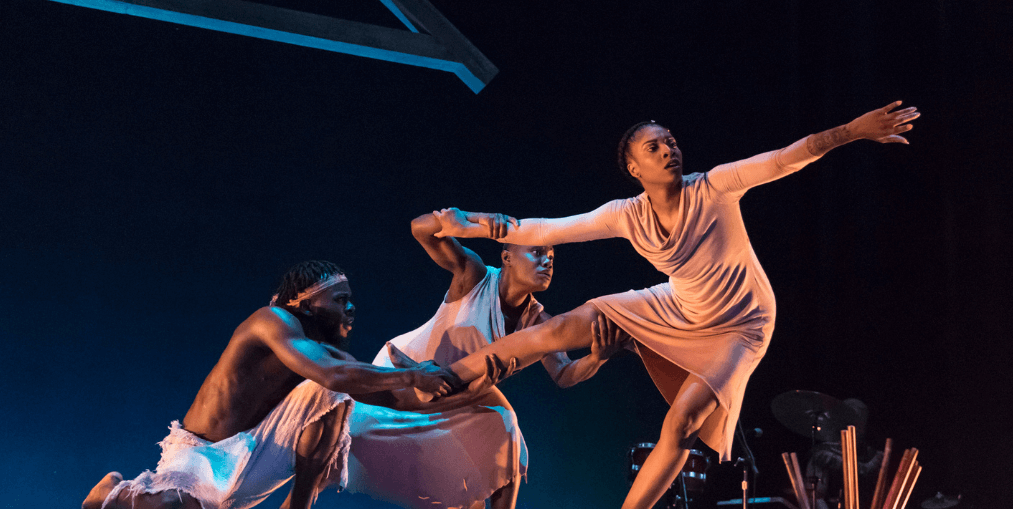 Performing Arts Houston presents Step Afrika!'s Drumfolk & Education Residency
(Houston) – Performing Arts Houston presents Step Afrika!, the world's premiere dance company dedicated to the tradition of stepping, October 27 and 28 at the Wortham Center. Part of Step Afrika!'s 30th Anniversary tour, the group's Performing Arts Houston debut features the program Drumfolk. Limited tickets remain and all performances are expected to sell out.In addition to onstage performances, Step Afrika! founder and Houston native C. Brian Willams, along with members of the company, will lead a major Education Residency in the Houston community. Tickets and information at performingartshouston.org.
Directed by Houston native Jakari Sherman, Drumfolk tells the story of the Stono Rebellion of 1739, a revolt led by 20 enslaved Africans in the then-British colony of South Carolina. In response to the rebellion, the Negro Act of 1740 was created, making it illegal for Africans to use drums and gather in groups. This led to the creation of new percussive forms and African performance traditions such as ring shout, tap, and stepping.
Kicking-off a week of events and performances, Performing Arts Houston hosts a Welcome Party for Step Afrika! at the El Dorado Ballroom, on October 24. The event will feature pop-up performances by the Edison Foundation, the Swag Boys, and Step Afrika! company members, with catering by Lucille's restaurant, a Houston culinary institution founded and operated by another member of the Williams family, James Beard Award nominee Chris Williams.

As part of the Step Afrika! Education Residency, the company will engage students and community members through private masterclasses at the Imani School (founded and directed by C. Brian Willams' mother, Patricia Hogan Williams), the Edison Foundation, and Kinder High School for the Performing and Visual Arts. Advanced and pre-professional dancers ages 16+ can participate in a public master class with Step Afrika! at the Institute of Contemporary Dance on October 26. Registration is open now, at icdhouston.com.
Founded by C. Brian Williams in 1994, Step Afrika! is the first professional company dedicated to the tradition of stepping. Under Mr. Williams' leadership, stepping has evolved into one of America's cultural exports, touring more than 50 countries across the globe. Step Afrika! now ranks as one of the top ten African American dance companies in the United States.
Step Afrika! blends percussive dance styles practiced by historically African American fraternities and sororities; traditional West and Southern African dances; and an array of contemporary dance and art forms into a cohesive, compelling artistic experience. Performances are much more than dance shows; they integrate songs, storytelling, humor, and audience participation. The blend of technique, agility, and pure energy makes each performance unique and leaves the audience with their hearts pounding.
Step Afrika! promotes stepping as an educational tool for young people, focusing on teamwork, academic achievement, and cross-cultural understanding. The Company reaches tens of thousands of Americans each year through a 50-city tour of colleges and theatres and performs globally as Washington, DC's one and only Cultural Ambassador. Step Afrika! has earned Mayor's Arts Awards for Outstanding Contribution to Arts Education (2005); Innovation in the Arts (2008); and Excellence in an Artistic Discipline (2012); and performed at the White House for President Barack Obama and the First Lady.
Step Afrika! is featured prominently at the Smithsonian's new National Museum of African American History & Culture with the world's first stepping interactive. In 2017, Step Afrika! made its Off-Broadway debut with the critically acclaimed production, The Migration: Reflections on Jacob Lawrence.
About Performing Arts Houston
Performing Arts Houston (formerly known as Society for the Performing Arts) connects audiences with exceptional artists through diverse performances and learning experiences. We ignite and cultivate passion for the performing arts, exploring the vast landscape of artistic expression to discover new understanding about ourselves, create community, inspire dialogue, and enrich our world. More at performingartshouston.org

Ticket Information
Tickets start at $39. Tickets can be purchased at performingartshouston.org or by calling the Box Office at (713) 227-4772 (M-F, 9-5). Starting at just $25/year, Performing Arts Houston memberships grant access to exclusive access, savings, and experiences while supporting performing arts and education programs. More at performingartshouston.org/memberships.
# # #
PERFORMING ARTS HOUSTON
presents
Step Afrika! Drumfolk
October 27-28, 2023
Friday, 7:30 pm; Saturday 7:30 pm
Cullen Theater, Wortham Center
Tickets start at $39
performingartshouston.org
LIMITED TICKETS REMAIN

Follow us on Social:
FACEBOOK: @performingartshouston
INSTAGRAM: @performingartshouston
TWITTER: @artshoustontx
Media Contact:
Caroline Senter
csenter@performingartshouston.org
713-632-8105