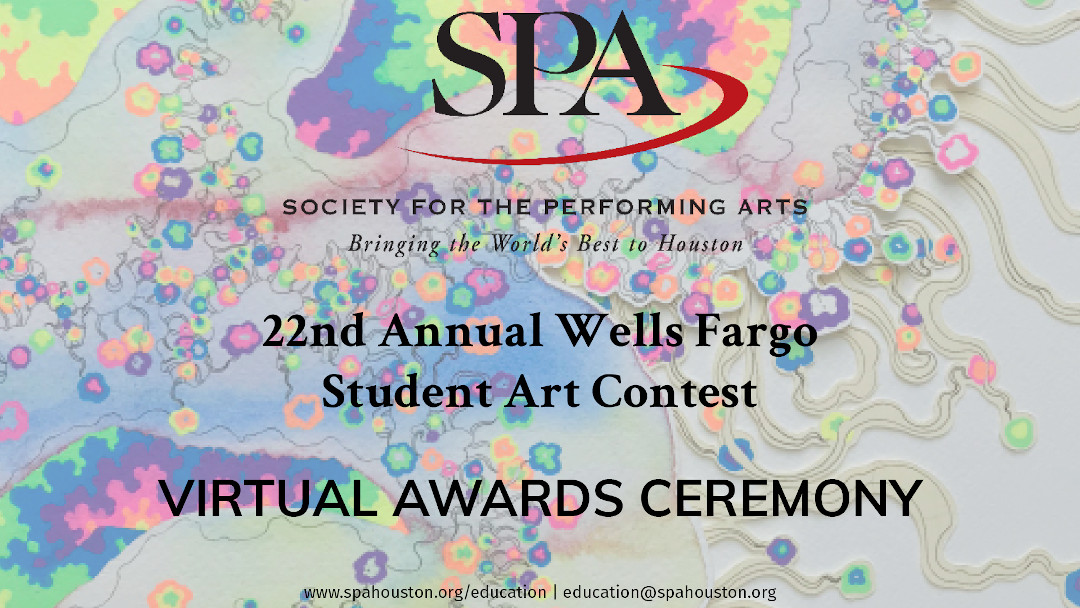 22nd Annual Wells Fargo Student Art Contest
The Wells Fargo Student Art Contest aligns the visual arts with SPA's mainstage programming. Each season, students from the Houston area submit artwork to SPA to compete for cash prizes and the opportunity to have their artwork exhibited around the city.
This year, the 22nd Annual Wells Fargo Student Art Contest received over 500 submissions from 64 schools in the Greater Houston area, artwork responding to the theme INGENUITY, inspired by 19/20 Season performances. Following social distancing guidelines, contest judges Eepi Chaad, Emily Fens, and Jamal Cyrus evaluated the artwork and assigned prizes in April 2020. Keeping safety in mind, we opted to host a virtual Awards Ceremony. Join us in honoring this year's astonishing young artists.
Thanks to our partners at Harris County Public Library for hosting artwork drop-off locations in 2020.
[button text="See a gallery of this year's winners" expand="0″ link="https://sway.office.com/Fz5ci744UEaL7Skh?ref=Link" target="_blank"]
[divider height="0px"]
---
About this year's featured judges:
Jamal Cyrus received his BFA from University of Houston and MFA from University of Pennsylvania. His work has been shown both nationally and internationally, and he has won several awards in-cluding the Louis Comfort Tiffany Foundation Award, the Artadia Houston Award, and the Smithsonian Artist Research Fellowship. Cyrus is also a member of the artist collective Otabenga Jones and Asso-ciates.
Emily Fens is a visual artist who received her formal training from the Glassell School of Art and holds a degree in Neuroscience from UCLA. In addition to Fens' ongoing works on paper series, her project Brainbloom combines art and science to create fantastical, polychro-matic explorations of the brain and has been exhibited for MFAH's Music on the Plaza program.
Eepi Chaad is a multi-disciplinary artist who investigates the relationship between humanity and the environment and believes "art is for every community and creativity is in every human". Chaad is currently Director of Community Engagement at Art League Houston, as well as serving on the board for Artists for Artist and the steering committee for Houston Museum Educators Roundtable.
---
Student Winners
Layla McCray
Samantha Byers
Daniela Garcia
Natalie Simonian
Ian Smith
Hannah Richard
Madelyn Gruen
Chang Liu
Tamarria Mitchell
Harrison Lange
Johana Arriaga
Rosemary Neslony
Alyssa Vansco
Nora Gwyn
Jada Sawyer
Amara Fulton
Grace Govella
Mary McCarthy
Emily Sanchez
Barbara Villarreal
Carlos Jemeniz
Sujata Tyagi
Isabella Kerfers
Yzabella Panesso
Cindy Chai
Galilea Guerrero
Elesse Tong
Luke Bohreer
Schools Represented
Kujawa Primary
St. Edward Catholic School
Carter Academy
Beasley Elementary
Shirley Dill Brothers Elementary
St. John Paul II Catholic School
Glenn York Elementary
Lewis Middle
Brazos Middle
Baylor College of Medicine Academy at Ryan Middle
Nimitz Senior High
Manvel High
Alvin High
Brazos High
Galena Park High
Carver Magnet High
The Woodlands High
Incarnate Word Academy
Cypress Springs High
Bens Branch Elementary
DeBakey High School for Health Professions
The HUB Houston
Thank You Teachers
Mikal Boston
Keri Pye
Yvonne Lopez Taylor
Sarah Lopez
Jenny Koch
Sarah Lopez
Ronda Stieber
Meghan Cano
Catherine Woodwin
Jose Figueroa
Jorge Vazquez
Drew Bettge
Karin Little
Michael Parthum
Wesley Frey
Matthew Kirkpatrick
Vicky Satterwhite
Jenny Lucas
Josie Postel
Diana Lookabaugh
Mary Blanco
Neda Khan
Susan Pittman
---
[featured_box img="25329″ pos="left"]
A special thank you to the sponsor of the 22nd Annual Wells Fargo Student Art Contest
[/featured_box]