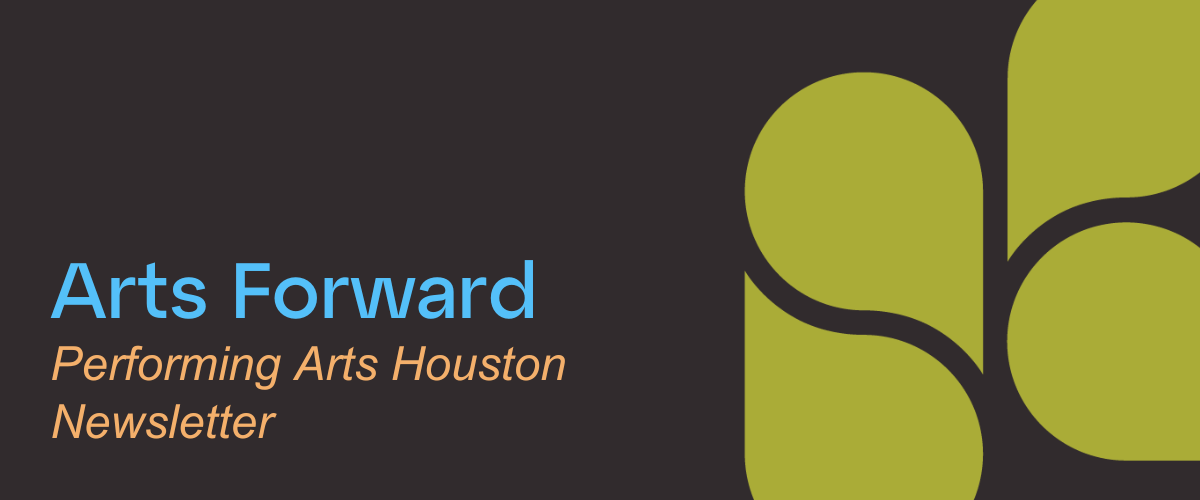 Arts Forward Newsletter, SEP 22
Stay Steeped in the Arts
The first Tuesday of each month, we share Arts Forward, the Performing Arts Houston newsletter. This month, we reveal the 2022 winners of New/Now: The Houston Artist Commissioning Project, announce a wildly entertaining addition to our 22/23 season, and more.
First, a bonus: Single tickets are on sale now for our entire 22/23 season. Every performance from STOMP to Dance Theatre of Harlem. Learn more below about how you can create your own live arts package and save up to 25% off single ticket prices.
Keep reading for—
Announcing 2022 New/Now Winners
New show! South Korea's Ak Dang Gwang Chil
A Conversation with Cloud Gate Artistic Director CHENG Tsung-lung
Create Your Own Live Arts Package
A New Partnership with MasterClass
Hands On with DIAVOLO
Shelf Indulgence—Opportunities for Book Lovers
Upcoming Performances
Now—Onward!
Announcing 2022 New/Now Winners
Advancing a project spotlighting and supporting working Houston artists, Performing Arts Houston announces the winners of the second annual New/Now: The Houston Artist Commissioning Project. The four winners, reflecting the diversity of arts in our city, represent a wide range of artistic genres and cultural backgrounds.
2022 New/Now Winners (in alphabetical order)
Anthony Brandt
J.E. Hernández
Vivalda Ndula
Tazeen Zahida
Each artist has been awarded a commission to create a new 25-minute performance. Winning groups receive a $6,000 cash award, marketing and publicity support, and a full presentation of their new work in Houston's Theater District. Because creating greater connection through the arts within our communities is a major initiative of the project, the artists will participate in curated engagement programs for the public and Houston area students.
About the Winners
Anthony Brandt is a composer, researcher, author, educator, and Artistic Director of Musiqa, an award-winning new music ensemble. He teaches music composition and theory at Rice University's Shepherd School of Music.
Brandt's commissioned work, Diabelli 200, marks the 200th anniversary of Beethoven's Diabelli Variations, and in collaboration with neuro-engineer Dr. Pepe Contreras-Vidal, will explore the neural synchrony between the performers and changes in brain activity during the performance.
Composer and cinematographer J.E. Hernández is a Mexican-born, Houston-based artist focusing on elevating personal and cultural narrative. His music has been featured by distinguished organizations such as the Kennedy Center for the Arts, American Opera Project, and American Composers Forum.
Hernández's new work, Desert Shelter,  is an interdisciplinary work using original music and choreography to highlight the experience of migrants crossing the U.S.-Mexico border via the Sonoran Desert pass.
Born and raised in Luanda, Angola, Vivalda Ndula became one of the voices of the new generation of Angolan musicians that creates a significant cultural and international impact on today's Angolan music. Ndula is a multi-award-winning singer-songwriter, percussionist, dancer, and activist.
Ndula's Mbandu ni Mbandu, meaning "side by side," is a music project composed of four pieces sung in Angola's native language, Kimbundu. Mbandu ni Mbandu examines ongoing social issues and conceptualizes a world where people can live together despite their differences.
Born in Karachi and raised in Saudi Arabia, Tazeen Zahida writes plays in English and Urdu. Her plays are inspired by current affairs, social issues, family dynamics, and her experiences of living in the Middle East and America.
Zahida's newest theatrical work, And the Clay Pot Speaketh, retells a South Asian folktale about the love story of Sohni and Mahiwal from Punjab. The tragic romance will be told through musical pantomime with narration, supported by South Asian poetry and folk music.
Be the first to see the new.
Join us FEB 24-25 at the Wortham Center's Cullen Theater for the second annual New/Now World Premieres. All tickets are $25.
The New/Now Commissioning Project is sponsored by sponsored by Cullen Foundation, Mid-America Arts Alliance, the National Endowment for the Arts, and the state arts agencies of Arkansas, Kansas, Missouri, Nebraska, Oklahoma, and Texas
All New/Now artist photos by Houston photographer Claire McAdams
New Show! Ak Dang Gwang Chil

We're excited to add South Korea's Ak Dang Gwang Chil to our 22/23 season! This FREE performance will take place at Miller Outdoor Theatre on April 29, 2023.
Also known as ADG7, this giddy 9-member band combines K-pop with traditional South Korean folk styles and instruments, creating a wildly entertaining sound all their own.
"A most astonishing show musically and immensely entertaining—Ak Dan Gwang Chil from South Korea. WOW!!!" (NPR Music)
Free registration is available for members now. General registration will open on TUE, SEP 13 at 9 am Central Time.
Tickets will be mailed just prior to the performance date. This special performance does not count toward package offers.
A Conversation with Cloud Gate Dance Theatre's CHENG Tsung-lung
Cloud Gate Dance Theatre begins their new North American tour with a performance at the Wortham Center's Cullen Theater on OCT 1. The evening will feature, 13 Tongues, "a sensationally big, indulgent and visually arresting expression of cultural memory" (The Times, London).
On the following day, our presenting partner Asia Society Texas will host a unique opportunity to learn more about the history and artistry of Cloud Gate Dance Theatre, and the creation of 13 Tongues, through a free talk with Cloud Gate Artistic Director CHENG Tsung-lung. The 3 pm event will feature a 45-minute moderated discussion followed by a 15-mintue Q&A.
Attendance is free, but registration is recommended.
Your next great arts adventure starts here
Our entire 22/23 Season is on sale now. Choose 4 or more performances and save up to 25% off single ticket prices (excludes specials).
Discounts are automatically applied at checkout. You'll see a 10% discount on the ticket value and all fees waived. For the discounts to apply online on all tickets, you must choose the same number of tickets per performance.
Our new partnership with MasterClass
We've partnered with the popular online learning platform MasterClass to provide no-cost Annual Memberships to the entire MasterClass catalogue to students and education participants of our Education and Community Engagement programs.
Each membership, valued at $180, gives participants access to a wide range of online courses, including subjects ranging from film making to public speaking and fashion design.
Several present and past Performing Arts Houston artists are on the roster of MasterClass course instructors, including Sandman author Neil Gaiman, and astrophysicist Neil deGrasse Tyson (returning to Jones Hall on MAR 6, 2023).
It's (Opening Night) party time

Join us for the Opening Night Party following DIAVOLO's performance on Friday, October 14 at Jones Hall.
Enjoy onstage cocktails, hors d'oeuvres, and tours of the company's set pieces. Opening Night Party tickets are available for an additional $100 with purchase of a performance ticket.
Proceeds from the party benefit Performing Arts Houston's Education and Community Engagement. Special thanks goes to our Opening Night Party chairs, Emily Kuo and Michael Chu.
For more information, contact Helena Oliver at 713-632-8117 or holiver@performingartshouston.org.
Shelf Indulgence—opportunities for book lovers
Here are just a few opportunities for booklovers coming up this fall:
After an evening of stand-up on OCT 7, comedian and author Tom Papa will sign books for all attendees. Brazos Bookstore will be on hand selling copies of Papa's latest release, You're Doing Great: And Other Reasons to Stay Alive.
On NOV 27, cookbook fans can purchase editions pre-signed by Nigella Lawson, including her latest, Cook, Eat, Repeat: Ingredients, Recipes, and Stories. The British food writer and TV cook has sold over 12 million copies worldwide.
Want a literary deep dive? Join Performing Arts Houston and Harris County Public Library for the Pages & Stages book club. The first meeting will be just prior to Tom Papa's performance on OCT 7. Attendees will meet and discuss Papa's acclaimed writing. Registration for Pages & Stages is free but tickets to Papa's performance that evening must be purchased separately.
Upcoming Performances
My Name is NOT Mom 
SEP 9-10
FRI 7:30 pm; SAT 7:30 pm
Cullen Theater, Wortham Center
A hilarious journey through motherhood with internet sensations Tiffany Jenkins, Meredith Masony and Dena Blizzard.
Cloud Gate Dance Theatre of Taiwan: 13 Tongues 
OCT 1
SAT 7:30 pm
Cullen Theater, Wortham Center
The premiere contemporary dance company of Taiwan kicks off its first international tour in nearly two years.
An Evening with Tom Papa
OCT 7
FRI 7:30 pm
Cullen Theater, Wortham Center
The sometimes-host of Wait, Wait Don't Tell Me and 20-year stand-up veteran is positively hilarious.
DIAVOLO
OCT 14-15
FRI 7:30 pm; SAT 7:30 pm
Jones Hall
Jones Hall Opening Night! 
The Los Angeles-based company of daredevils returns with works that soar.

Learn More
Mariachi Herencia de México: Herederos, with special guest Lupita Infante 
OCT 16
SUN 6:30 pm
Jones Hall
The Latin GRAMMY-nominated group of young Mexican-American musicians, recognized as the new ambassadors of the mariachi tradition, perform a vibrant tribute to the golden age of Mexican music.
2022 Cliburn Gold Medalist Yunchan Lim
OCT 18
TUE 7:30 pm
Cullen Theater at Wortham Center
At 18, Yunchan Lim is the youngest-ever winner of the Van Cliburn International Piano Competition.
Mutts Gone Nuts! 
OCT 23
SUN 1 pm & 4:30 pm
Cullen Theater at Wortham Center
An uproariously funny comedy spectacular featuring rescue pups voted most likely to win Best in Show.
A career where arts thrive

We're looking for professionals with experience in fundraising, finance, and more. Check out current openings and apply today. This is where live arts thrive and where you can too.

Thank you for reading!